Address:
Islander On The Beach
440 Aleka Place, #346, Kapa'a, Kauai 96746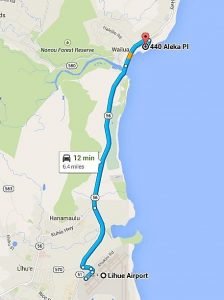 Getting to the Condo:
It's a quick 15-minute drive (~6.5 miles) from the airport to the condo.
Driving directions (you can also type "440 Aleka Place" or "Islander On The Beach" into your smart phone's navigation app):
Step 1: Exit the airport by taking Mokulele Loop and then a left on Ahukini Rd until you get to HI-51 N.
Step 2: Take the 1st right onto HI-51 N and continue for 1.5 miles until it becomes HI-56 (also called the Kuhio Highway).
Step 3: Take HI-56 (Kuhio Highway) north for 4.1 miles. Ocean will be on your right.
Step 4: You will stay on HI-56 (Kuhio Highway) and cross over the Wailua River.
Step 5: About ½ mile after the river crossing, you will see a red sign on your right for the Coconut Market Place. Take a right at this sign which will be Aleka Place road.  Continue to the right on Aleka Place until you pull into the Islander On The Beach parking lot.
Locating our condo:  Our condo is #346 and is located in the Ni'ihau building which is oceanfront to the right of the pool. There are 2 flights of stairs that will take you to the 3rd floor of our 3 floor building. Our condo #346 is the second one down.
If you need more detailed step by step directions to our condo, please click the link here for Google Maps.